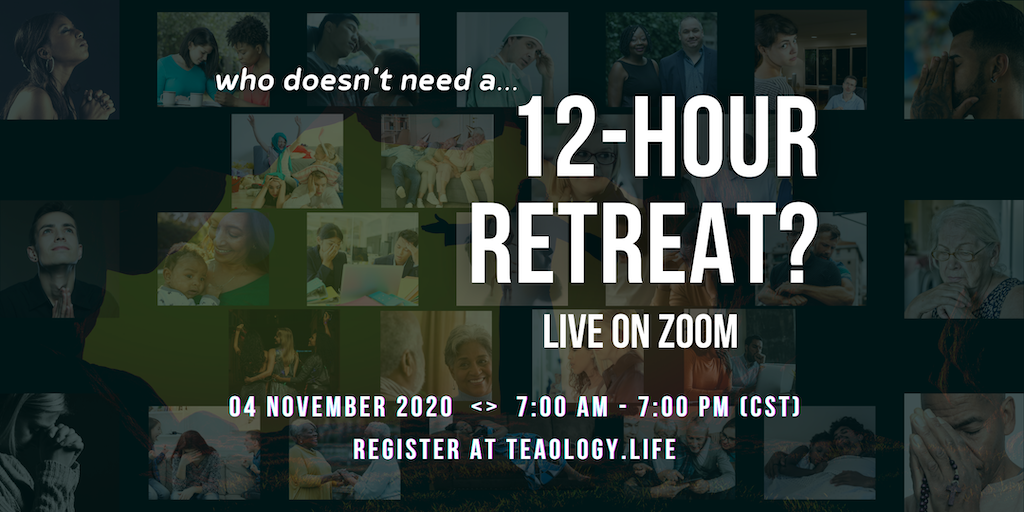 T

his year Halloween is on a Saturday for the first time in 19 years!
This Halloween brings a Blue Full Moon for the first time since WWII!
Clocks fall back that night.
A very contentious, lose-lose Election Day is scheduled for two days later.
And we probably don't need to mention that CoVid19 is once again on the rise.
Stressed yet!?!
We couldn't think of a better time than the day after Election Day to retreat for some reflecting … regrouping … recentering.
We're inviting you to join Dr. Kris Tenny-Brittian as she facilitates our first 12-Hour Retreat Zoomed live from Teaology in Columbia Missouri. We'll start with Morning Prayer at 7:00 AM (CST) and end promptly at 7:00 PM, following Compline (the End-of-Day Prayer). In between, you'll have the opportunity to enjoy a beautiful sunrise and a glorious sunset. There will be time to sit with soul-reaching music; with words of peace, encouragment, and hope; and with ancient icons held holy by Christians around the world. There will be Noontime Prayer and Evensong, Lectio Divina, and an Imaging Prayer session. It's all flexible enough that you can come, go, check-in, check-out, and check-back-in again. We want this day to be yours to use as you want. You can participate as much or as little as you need. We don't expect you to sit in front of a screen all day; but, rather, to let us help you shape this time to sit with God in whatever way works best for you.
The $29 cost includes the Retreat Guide that will provide you with everything you need to make the 12-Hour Retreat your own. In it you'll find tools to understand and participate in the four Shared Prayer Times; tips for creating your own sacred space; and suggestions that will help you make the most of your day. You'll receive your Retreat Guide with your Zoom Room Key the day before.
We're very excited about what the 12-Hour Retreat has in store for each and all of our Retreatants. We've already been praying for those who are coming and will begin praying specifically for you as soon as you've registered. Wednesday morning we'll light a candle for each person; and throughout the day we'll sit with all the candles as we continue to pray individually for each one of you.
Click HERE to register and let us begin praying for you. We count it a privilege to pray and can't wait to get started. See you soon.