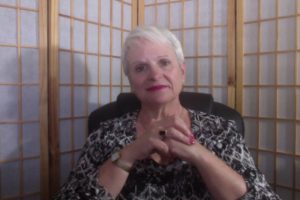 When was the last time you were able to sit down with someone and talk? Just talk – honestly and openly – to someone who was there only for you? Only to listen. No judgment. No ridicule. No ridiculous looks. Just listening and caring about what you have to say.
Or maybe you're looking for a deeper, some might call it a Divine, conversation. Imagine having someone to greet you with a warm cup of tea and provide you with the direction and counsel that will help you develop the kind of skills that allow us to hear the still, small voice of God.
On a very wet, cold, and blow-y day a number of years ago, Dr. Kris and her husband, Bill, were out in Westport, Washington (Kris' favorite town on the Pacific coast).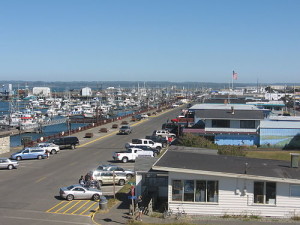 They looked for a place where they could comfortably sit, drink some tea, and get connected to the internet … but they were out of luck. That day the dream of Teaology – a place for tea and talk – was conceived as they dreamed of a day when they could purchase a two- or three-story storefront with enough room for their collection of some 4,000 books and some tables and comfortable chairs so people could sit and drink a pot of tea as they read, surf the web, or otherwise rest while they wait for their companions to return from shopping, walking the beach, deep sea-fishing, or whatever else they might be doing. The Drs. T-B talked about the need to have an office there so Kris could meet one-on-one with folks in search of spiritual direction, healing and wholeness, or just someone to talk to. And they envisioned the upper-floor alive with their Old English Sheepdogs and visiting friends and family.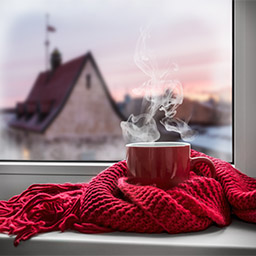 But Drs. Kris and Bill also realized that this Teaological vision would depend on them becoming independently wealthy (or securing a patron or patroness) since places on the coast that provide a pot of tea for only $1 and are open only when the proprietors aren't on the road consulting and providing on-site training aren't exactly viable.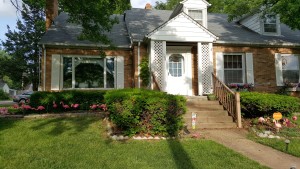 Fast forward a few years and the Drs. find themselves (no, not independently wealthy) smack-dab in the middle of Missouri, in Columbia to be exact – the home of Mizzou, Stephens and Columbia Colleges and so much more. And they find themselves living in a house with space for their collection of some 4,000 books, tables and comfortable chairs, and a wall suitable for a handmade eight-by-four-foot tea cabinet that at any given time may house 100 different types of tea. And there's room for a couple of offices and a quiet room where Kris can work with people who have been looking for someone they can openly and honestly speak with … someone who can offer them spiritual direction … someone they can have God-centered conversations with … someone who has tools and techniques that lend themselves to healing and wholeness … someone who can provide them with a place to hang out or hideaway when they need to get away for an hour, an afternoon, or a day. And there's even room for a Children's Room, a dedicated room for Childhood Reclamation – a room designed with the inner child in mind, a room where adult thoughts and worries can be left at the door so one's inner child can come out and play … that inner child who was thrust into adulthood much too soon….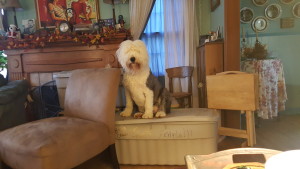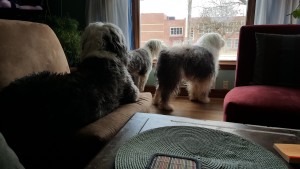 And, oh yes, this house even has space for their four Old English Sheepdogs.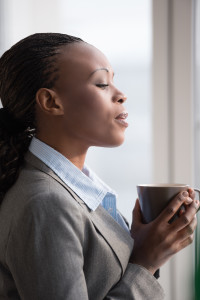 Today the Drs.' House has become the home of Teaology, a place for tea and talk, where Dr. Kris is the resident Amma (= "Spiritual Mama"). When you're able to visit in-person she'll greet you with a cup of tea; and if you're meeting face-to-face via a video-session, you'll be encouraged to grab yourself a cup of tea or coffee or whatever it is that helps you to relax, settle in, and focus. Regardless of which format you use, before long you'll find yourself opening up and sharing some of the thoughts, hopes, dreams, concerns, fears (etc.) you've not been able to share with anyone else. You'll have the opportunity to reflect and to look for God in the midst – the mist? – of everything and to consider what God may be trying to do for, in, and through you.
All in your own time. Just some conversation. Just some tea and talk.
If you're new to Teaology or Spiritual Counsel &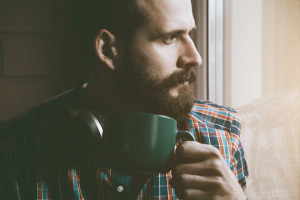 Coaching, or just having someone you can count on to listen and encourage you, feel free to contact Dr. Kris at Kris@Teaology.Life for a 30-minute free consultation. If, on another hand, you're ready to move in a new direction, you can click HERE to make an appointment for your first session.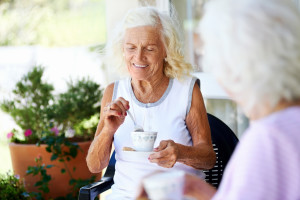 And remember: Kris is always looking for another reason to share a pot of tea!